Southern Luncheon Buffet
Available Daily from 11AM until 3PM (Some Holidays Excluded)
Adult – $16.95   Child (11 and under) – $7
We have been perfecting our Southern lunch staples over the years. While we'll always have our Award Winning Fried Chicken, other selections vary daily. Our traditional Southern staples include: Fried Chicken, Fried Fish, Macaroni and Cheese, Mashed Potatoes and Gravy, Collard Greens, and Green Beans. Dessert is included with the Southern Lunch buffet and always homemade. All Menus Subject to Change.
Soul Satisfying Soups
She Crab Soup

$6.95

A delicious blend of Crabmeat, Sherry, & Cream. A Savannah Tradition
Soup, Salad, & Sandwich

$15.95

A cup of She Crab Soup or Okra Gumbo and a Chicken Salad Sandwich on a Croissant, with a small House Salad.
Anne Bonny's Appetizers
Fried Green Tomatoes

$10.95

Buttermilk soaked & fried Green Tomatoes served with house-made Smoked Gouda Pimento Cheese & drizzled with Chipotle Aioli.
Corn Fritters with Blackened Shrimp

$11.95

Roasted Corn & Peppers mixed with a Cornmeal batter & griddle seared, served with Blackened Shrimp & a side of Green Tomato Chow Chow. Finished with a drizzle of Chipotle Aioli.
Fried Calamari

$11.95

Lightly fried Calamari served with Basil Oil, Tomato, Parmesan, & Marinara.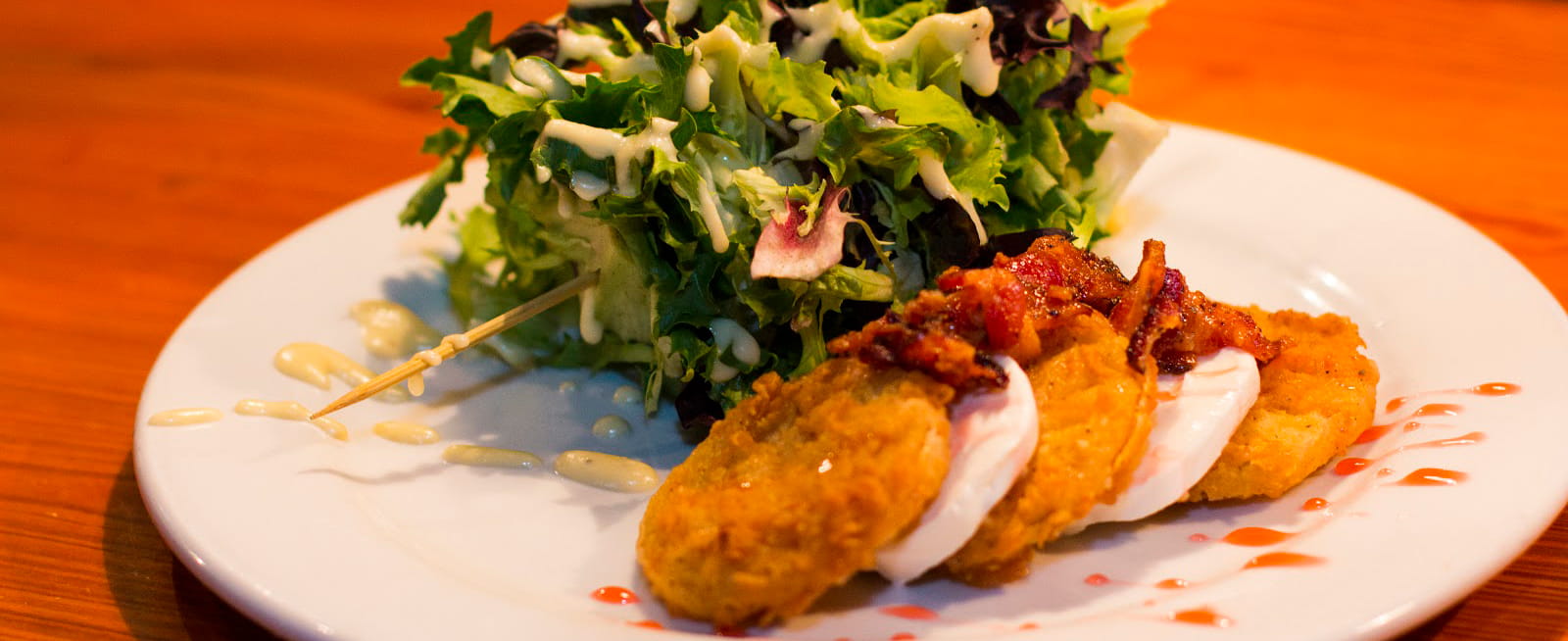 Gems from Our

Salad Galley
Fried Chicken Salad

$15.95

Mixed Greens topped with our house breaded Chicken Tenderloins, Cucumbers, Tomatoes, Cheddar Cheese, Croutons, & a Cilantro Jalapeño Ranch in a flour tortilla bowl.
Dijon Glazed Salmon & Arugula Salad

$15.95

Arugula & Spinach tossed with White Balsamic Vinaigrette & topped with Bleu Cheese, Craisins, toasted Almonds, & crispy tortilla strips served with Dijon glazed Salmon.
Fried Green Tomato BLT

$12.95

Skewered fresh Mixed Greens with a Roasted Garlic Vinaigrette served with fresh Mozzarella and crispy Fried Green Tomatoes, topped with candied Bacon & drizzled with a Raspberry & White Balsamic glaze.
Classic Wedge Salad

$10.95

Quarter head of Iceberg Lettuce with Bleu Cheese crumbles, Red Onions, Grape Tomatoes, candied Bacon, & Bleu Cheese dressing.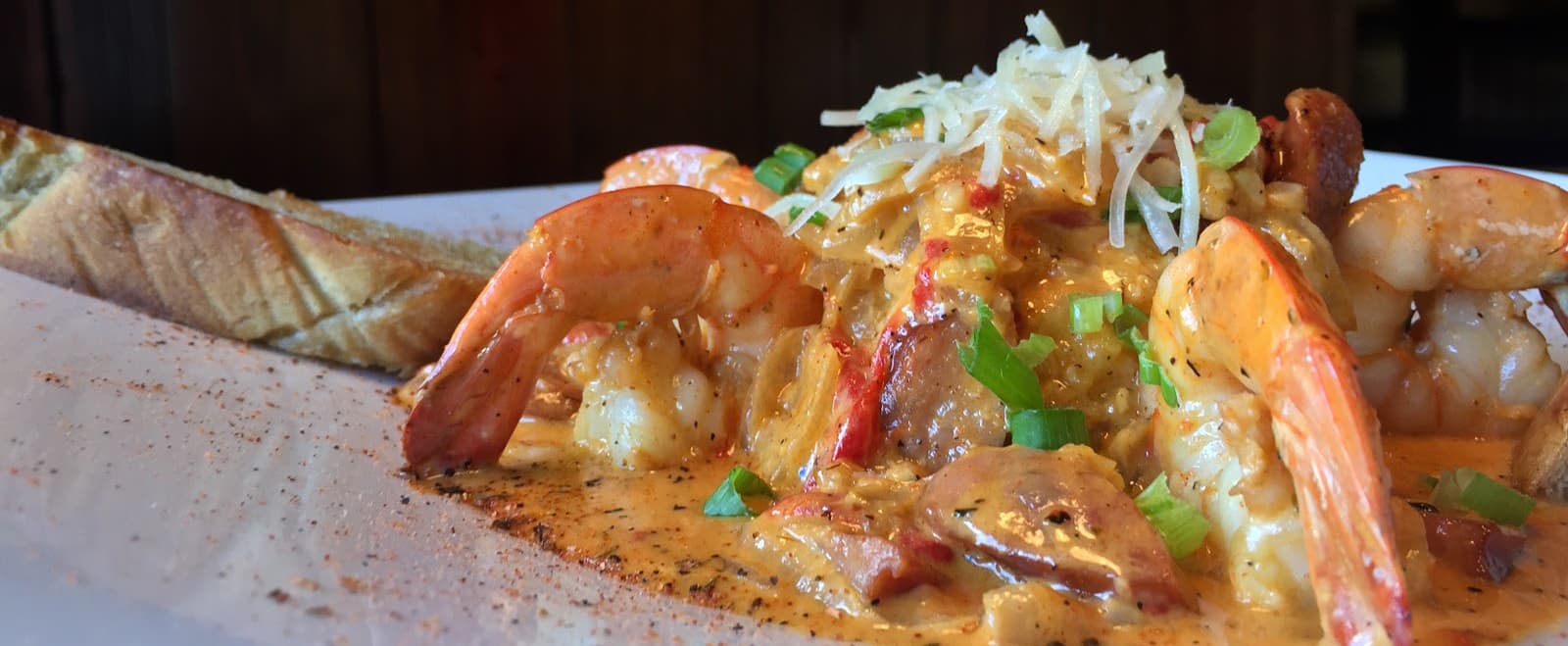 Captain Flint's Favorites
Chicken Gumbo

$13.95

Grilled Chicken & Sausage simmered in a classic Tomato & Okra broth, served with Savannah Red Rice.
Add Shrimp $4.95
Shrimp & Grits

$15.95

Sautéed Shrimp tossed with Andouille Sausage, Peppers, Onions & a rich Cream Sauce over Stone Ground Grits.
Shrimp Parmesan

$14.95

Sautéed Shrimp tossed with roasted Red Peppers, Spinach, & Alfredo sauce over Pasta.
Blackened Snapper

$16.95

Griddle Seared and finished with a lightly Spiced Lump Crab Cream Sauce, served over Local Course Ground Yellow Grits.
Tropical Chili Glazed Shrimp

$14.95

Glazed and Skewered Jumbo Shrimp served over Savannah Red Rice and a Georgia Peach Piccalilli.
Seafood and Chicken
Chicken Finger Platter

$12.95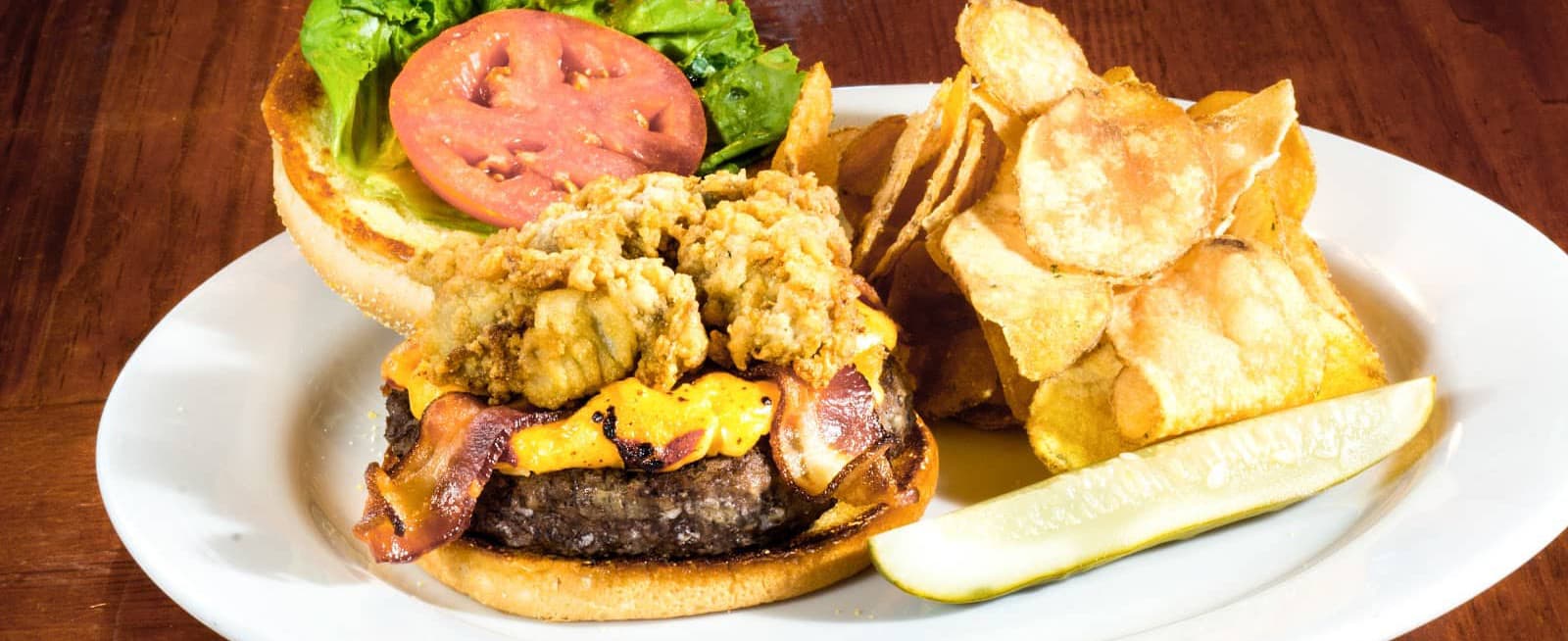 Hearty Fare from the

Sandwich Bar
Served with your choice of French Fries, Kettle Chips, or Fresh Fruit
Pirates' House Hamburger*

$12.95

Charbroiled & served on a Kaiser Bun with Lettuce & Tomato.
Add Cheese $0.75
Add Bacon $1.00
Ultimate Low Country Burger*

$15.95

Charbroiled & topped with Smoked Gouda Pimento Cheese, Bacon, & Fried Oysters. Served on a Brioche Bun with Lettuce, Tomato, Onion, & Herb Aioli.
1776 Burger*

$15.95

A Revolutionary Sandwich — made with a half pound of Choice Ground Beef crowned with melted American Cheese, sautéed Onions, & grilled Mushrooms with Lettuce & Tomato.
Salmon BLT*

$15.95

Grilled Salmon served on Challah Bread with Lettuce, Tomato & Herb Aioli.
Reuben

$14.95

House-cooked Corned Beef, melted Swiss Cheese, Sauerkraut, & 1000 Island dressing on grilled Rye.
Crab Cake Sandwich

$16.95

Maryland style Crab Cake pan fried & served on a Brioche Bun with Lettuce, Tomato, & Herb Aioli.
Shrimp Po' Boy

$13.95

Lightly breaded & quickly fried, served on a Hoagie Roll with Tartar Sauce.
Crab Melt Sandwich

$13.95

A blend of Crab, Cheese, & fresh herbs served on grilled Rye with Swiss cheese.
Caprese Chicken Sandwich

$12.95

Herb Marinated Boneless Chicken Breast topped with Fresh Mozzarella, Tomatoes, Fresh Basil, Fried Onions and Herb Aioli.
Side Dishes

$2.95

Kale Slaw, French Fries, Kettle Chips
*Consuming raw or under cooked meats, poultry, seafood, shellfish or eggs may increase your risk of food borne illness.
18% SERVICE CHARGE IS ADDED TO PARTIES OF EIGHT OR MORE